Carina Joe – leading the manufacturing of COVID-19 vaccine
Dr Carina Joe spent seven years at CSIRO Manufacturing, first as an intern and then as a PhD student through RMIT.
During her time at CSIRO, she was an industrial trainee in Manufacturing division specifically in the Fermentation team with Prof George Lovrecz as her supervisor.
Carina is very proud of being involved in the project with Padula Serums Pty Ltd, a small biotech company in regional Victoria to produce an antivenom to treat Eastern Brown and Tiger snake bites. She recalls, "We used the latest technologies to make sure that the anti-venom is not only safe and effective but it's also a lot cheaper to produce compared to existing products. With this more effective and lower cost product, more dogs will be able to be saved from deadly snake bites."
Carina also helped organised annual CSIRO Protein Expression Workshop and was proud to be on the cover of the 18th annual CSIRO PEWS.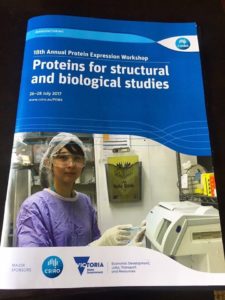 During the course of her studies, she was officially supervised by Peter Smooker (RMIT), Hans Netter (PDI) and at CSIRO by George Lovrecz. Her research focussed on the development of virus-like particles (VLP) derived from the Hepatitis B virus as a platform technology for the development of novel vaccines.
In 2019 Carina joined the Jenner Institute, which for several years had been developing low-cost manufacturing processes for chimpanzee adenovirus vectored vaccines under the direction of Dr Sandy Douglas. Carina joined as a postdoctoral research scientist in vaccine development, working closely with Dr Adam Ritchie, an Australian who knew that Carina's experience with the CSIRO would be of benefit to the team.
When Covid-19 emerged, Carina was thrown into the deep end to develop and optimise a manufacturing project for what is now known as the Oxford-AstraZeneca vaccine, for which over 2 billion doses have now been distributed. Carina worked as the lead scientist in process development for large scale cGMP Oxford/Astra Zeneca COVID-19 vaccine manufacturing and her team managed to complete the manufacturing process in a record time to supply enough vaccine for the clinical trials and international supply.
As the Senior Postdoctoral Research Scientist in Vaccine Development, she explains that they have also been transferring their knowledge and technology to a lot of cGMP manufacturing facilities around the world in a bid to increase the vaccine supplies not only to developed countries, but also a lot of developing countries around the world. Carina's experience with CSIRO meant she was both experience in cGMP manufacturing, but also able to interact at the interface of academia and industry, which was vital to the success of the programme. Their vaccine manufacturing process which is economical allows the vaccine to be distributed at affordable cost which is important for low- and middle-income countries.
The team of scientists behind the Oxford vaccine for Covid-19 were acknowledged for their work at the 2021 Pride of Britain Awards
Find out more about Carina and her work
https://onlinelibrary.wiley.com/doi/full/10.1002/bit.27945
https://www.jenner.ac.uk/team/carina-joe
https://asean.org/wp-content/uploads/2021/10/The-ASEAN-Vaccines-For-All-August-Sept-2021.pdf
https://www.bbc.com/indonesia/majalah-58361720
https://www.ox.ac.uk/news/2021-11-15-oxford-vaccine-reaches-two-billion-dose-milestone
https://www.ox.ac.uk/news/features/making-billion-doses-vaccine-18-months-starting-two-tablespoons