Lindfield Collaboration Hub
The CSIRO Lindfield Collaboration Hub is a deeptech and hardware incubator; based at CSIRO's Lindfield facility. It is a dedicated space for start-ups and SMEs to develop unique, high-tech products and devices.
We are keen for alumni to get involved as mentors, workshop presenters and guest speakers, so please contact us if you are interested and send an email to Katie.green@csiro.au
We offer a range of facilities and programs to support SME's and start-ups:
Co- location facilities
Workshops and Training
Pre – Accelerator programs (Connect@Lindfield) and Customer Discovery Workshops (LaunchCamp)
Networking and Events
Mentors and Advisors
Scientific and business expertise
Maker Space facilities and other unique Lab facilities and equipment
Office Space, Laboratory Space, and other support services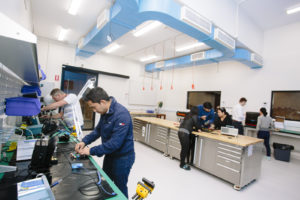 How can you get involved with our energetic, interactive, and engaged community?
We are always looking for mentors, industry and technical experts, and a diverse ecosystem of members. Go to our website https://research.csiro.au/lindfieldhub/ and look at our events and programs.
Are you working on the next big-thing in med-tech, advanced materials or devices?
If you, or someone you know is looking for co-location, we would love to hear from you through our online application form https://research.csiro.au/lindfieldhub/innovations-connections/ or connect directly with Katie Green katie.green@csiro.au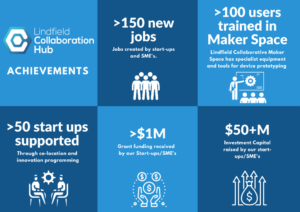 Keep up to date with news and events happening at the Lindfield Collaboration Hub – Sign up for our Newsletter