The Secrets of Healthy Ageing series
Join us to learn about The Secrets of Healthy Ageing.
Professor Cassandra Szoeke is one of our CSIRO Alumni members and Director of the Healthy Ageing Program at the University of Melbourne.
CSIRO Alumni is hosting a series of online talks with Professor Szoeke to delve further into the Secrets of Healthy Ageing.
Expert guest speakers will join us for each topic and Peggy Stasinos, Director, Business Development, Biosecurity at CSIRO will guide the discussion. These events are online and attendees can submit questions during the talk for the Q&A at the end of session.
Event series calendar:
Click on the links to previous events to read more about the presentations and watch highlights reels.
If you are keen to receive an invitation to future events, please contact alumni@csiro.au to be added to our mailing list.
Mar 2022: The Secrets of Healthy Ageing
Sept 2022: The Secrets of Healthy Ageing and the Hormone Story
Dec 2022: Secrets of a Healthy Brain
Future events, dates TBC
Secrets of Healthy Skin, Bones and Balance
Secrets of Healthy Nutrition
Secrets of Healthy Hearts
Professor Cassandra Szoeke
PhD, FRACP, MBBS BSc (Hons), GAICD, AMA, AFAIDH. Centre for Medical Research, Royal Melbourne Hospital. Healthy Ageing Program, University of Melbourne
Professor Cassandra Szoeke is the principal investigator of the Women's Healthy Ageing Project, the longest ongoing study of women's health in Australia, and author of the book Secrets of Women's Healthy Ageing. She is a general physician, consultant neurologist, professor and multi-award winning clinical researcher; currently Director of the Healthy Ageing Program at the University of Melbourne.
She has several hundred published articles in the medical literature, several book chapters in medical textbooks and has worked in the Commonwealth Science Industry and Research Organisation, Public Hospital system and as Non-executive Board Director of Health Services. In addition to her medical qualifications and fellowship in the Royal College of Physicians she has a BSc with Honours in Genetics and PhD in Epidemiology, and her postdoctoral studies at Stanford University CA, focused on public health and policy. She led the neurodegenerative diseases and brain health program at CSIRO and then became Clinical Consultant to the CSIRO Preventive Health Flagship. She is an associate Fellow of the Australian Institute of Digital Health and Graduate of the Australian Institute of Company Directors.
She has held many significant academic positions and teaching roles for academic institutions and specialist colleges and is recognised internationally for her contributions to healthy ageing research holding Australian clinical representative role in the world-wide Alzheimer's Disease, Clinical lead on the Global burden of Dementia and is currently on the executive of the International Women's Brain Project as lead of the Asia Pacific node. She has worked in the public and private health system in clinical, leadership and governance roles as board director appointed by the state health minister including holding roles as Chair of the Q&S and Education, Training and Research board subcommittees. She has contributed to development of national health policies and currently sits on the Council of the Australian Medical Association (Vic), was appointed to Medical Panels by the Department of Health (Vic) and is the Chief medical officer for the Australian Healthy Ageing Organisation.
Join our AgeHAPPY online survey
The Healthy Ageing Project Population Youth-senior (AgeHAPPY) is an online heath survey for Australians. Our mission is to improve the understanding of health across a lifespan to promote healthy ageing and prevent disease.
Our vision is for all Australians to maintain lifelong healthy ageing. Chronic disease is the largest cause of death and disability in Australian society and through-out the western world. The information collected will allow us to understand the impact of social and behavioural factors on health. This will influence policies and practice toward better prevention and early detection of health issues, including Parkinson's and Alzheimer's disease.
Through administering our online health survey, we can collect valuable demographic, clinical, behavourial and lifestyle data which allows us to analyse the impact of factors on health and ageing.
Secrets of Women's Healthy Ageing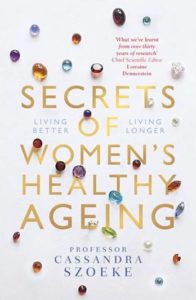 Secrets of Women's Healthy Ageing draws on the findings of a unique study that has focused on the health of more than four hundred women in their mid-to-late lives. Over the past thirty years a team of international investigators has compiled a remarkable amount of data, aiming to raise awareness of modifiable risk factors in women's health. Their findings cover brain, heart and gut health, diet, sleep, exercise, and the benefits of socialising. But importantly, they highlight how the results relate directly to women's wellbeing.
In Secrets of Women's Healthy Ageing Cassandra Szoeke shares the wisdom revealed by this comprehensive study, showing how to promote overall wellness and providing the key ingredients for living a long and healthy life.
CSIRO Alumni special offer for registered guests:
Melbourne University Press is offering 20% off RRP $32.99 on the best selling Secrets of Women's Healthy Ageing by Professor Cassandra Szoeke.
To place your order, email Dominika at MUP: dominika.greinert@unimelb.edu.au with the below details.
+ Number of copies you would like to order
+ Delivery address. Delivery is free for orders of $50+ to one address within Australia