Dr David Gray
Dr Gray's work focused on mineral exploration in Australia, and he was one of the international leaders in exploration hydrogeochemistry, the use of the chemical composition of groundwater to detect buried minerals and build understanding of the continent's landscape.
He published widely, authoring more than 30 peer-reviewed journal papers and 180 refereed conference proceedings, abstracts and technical reports.
Dr Gray would be even more widely recognised had he not been such a selfless researcher. He always put the team, project and organisation before his own personal gain. Promoting and pushing others to present and publish research instead of taking the rewards he was personally due.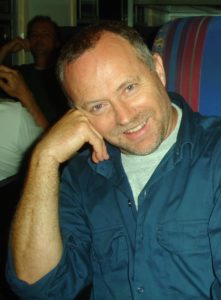 David was a mentor for many, and he would engage with students and senior colleagues in the same manner; always constructive, supportive and considered. David formally supervised several students including three PhDs, not to mention the many more he unofficially mentored as undergrads, post grads or colleagues. He was also a member and past president of the Australian Regolith Geoscientists Association and served on the Editorial Board for Geochemistry: Exploration, Environment, Analysis for many years.
David's early years were in Sydney, completing B.Sc. (Hons) in inorganic chemistry (1982) and Ph.D. in Soil Science (1986) at the University of Sydney, the latter on uranium and thorium geochemistry during weathering at the Alligator Rivers uranium province, N.T., Australia. Following a short stint as a geochemical consultant David joined CSIRO in 1988 as a research scientist, progressing up through the ranks to senior principal research scientist, where he remained until his early retirement due to failing health in 2018.
In 1987, CSIRO renewed its research effort on geochemical exploration in regolith dominated terrain; this theme of 'exploration under cover', continues to the present. David was one of those recruited at the commencement of this initiative. His role was to provide chemical reality to the interpretation of geochemical dispersion patterns, to establish laboratory studies in aqueous geochemistry and to look at the chemistry of groundwaters. This was a critical role and there could not have been a better choice.
His job was quite challenging, because although initially working across two projects, these quickly became four – two focussed on gold, one on PGE and one on uranium. This was a busy time, with the need to cope with over 30 industry sponsors and differing confidentiality requirements. The success of these and a series of later projects, one of which he led, provided the inspiration for establishing the Cooperative Research Centre for Landscape Evolution and Mineral Exploration in 1995. David was a critical participant in developing the proposal itself and leading subsequent research. This centre, involving several universities and geological surveys across the country, as well as CSIRO, became the main driver for a 15-year body of research that transformed the way mineral exploration was conducted in Australia and beyond.
He played a significant role in the development of 'calcrete geochemistry', a technique that has been credited with the discovery of billions of dollars' worth of buried gold deposits. This work led to the team receiving the inaugural Science and Technology Award from the Association of Mining and Exploration Companies in 1997.
He led the Regolith Geoscience Group for several years, as well as taking on other science leadership roles. In these positions, he initiated numerous projects on groundwater geochemistry and gold mobility.
Combined, the projects he worked on formed the basis for his grand plan to develop a regional hydrogeochemical atlas, and some 30 years later, this is coming close to a reality. In the process, his work has led to the acceptance of hydrogeochemistry as an exploration tool that is now widely implemented by Australian State geological surveys and mineral explorers.
David remained an active Honorary Fellow of CSIRO after his retirement. He was still passing on his ideas for simplifying exploration transition metal indices in groundwater by scaling for pH and the evolution of acid groundwaters in arid calcrete environments right up to the last weeks before his death. He was always positive and defied the odds remaining active and living more than twice as long as his initial diagnosis had indicated was probable. His quality of life had been good until his last few days which we attribute to David's personality. David's optimism is something that those who went into the field with him would know all too well. He was always convinced you could collect another few samples even as darkness was descending, and he would literally bounce in and out of vehicles all day, every day, to ensure he got as much possibly done in the field.
His dedication to his science in the office was also admirable – he spent years trawling through pdf water reports for good quality data. The outcome, some 320,000 sites of reliable groundwater chemical data, is thanks to David's tenacious nature for collecting and curating results and being certain that these would show patterns for application in mineral exploration and other fields.
He died on November 21 2019 in his home surrounded by his family following a battle with brain cancer. David was 58 and is survived by his wife (Celia), children (Ahren, Alex, Bec, Adam, Nathan), father (John) and sister (Anne).
Thanks to his exceptional mentoring, CSIRO continues to work on exploration hydrogeochemistry data and projects, furthering David's legacy.
Ryan Noble, Nathan Reid, Charles Butt