Dr Steve Morton wins Whitley Medal for 2022
Australian Deserts: Ecology and Landscapes by Steve Morton, produced by CSIRO Publishing, wins Whitley Medal for 2022
My book, Australian Deserts: Ecology and Landscapes, has been awarded the Whitley Medal for 2022. Each year, the Royal Zoological Society of New South Wales recognises the best books about Australian nature and wildlife with awards named in honour of Gilbert Whitley, an eminent former Curator of Fishes at the Australian Museum. In a recent ceremony, I received the medal in the beautiful setting of one of the Museum's fine old galleries.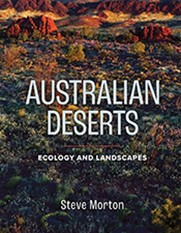 The book distils my decades of participation in ecological research in arid Australia, together with consideration of an extensive body of wider scientific research. It aims to explain how arid Australia works ecologically, why the place looks and feels like it does. I wanted to present it such that any interested reader could gain access to decades of scientific insights, so it is written as a narrative, without ranks of numbers and tables. And I particularly wanted to celebrate the dry country, a vast region not always at the forefront of thinking in our society, and to honour its toughness and beauty, both through accounts of my own experience and through Mike Gillam's stunning photographs that are placed liberally throughout the book.
The volume is deeply imbued with CSIRO involvement. For a start, it has been superbly produced by CSIRO Publishing. Furthermore, my experience of arid Australia stems principally from appointment to the Central Australian Laboratory as a Research Scientist in the 1980s. My life-long interest in the dry country was cemented in that decade, and even when other CSIRO responsibilities took me over the years to Canberra, and then Melbourne, I retained strong connections with Alice Springs.
After my final assignment as Group Executive, Manufacturing, Materials and Minerals, I retired from CSIRO in 2011 and returned to residence in Alice Springs. The idea of Australian Deserts continued to burgeon, at the back of my mind, throughout the final decade of my CSIRO life as an executive. A work like this is difficult to undertake, if not impossible, when responsibilities are heavy, and only when the days stretched out unperturbed was it possible to do the thinking and writing. The work took seven years.
I am grateful to those CSIRO colleagues who worked with me and supported me during my research career in desert ecology – their names are mentioned in an acknowledgement in the book. I am also obliged to colleagues in the Manufacturing, Materials and Minerals Group, particularly those at Clayton. My last years in CSIRO, from 2008 to 2011, were an exciting period of exposure to inspirational work in solution-oriented science and engineering. For those who worked with me at that time, perhaps the book can now help explain what it was that impelled me to say farewell.
Steve Morton