From CSIRO software engineer to start-up CEO: Silvia's journey to revolutionising healthcare
If you've logged on to one of the six million medical consultations that have been delivered using the Coviu platform in the past five years, you'll already be familiar with the work of CSIRO alumni Dr Silvia Pfeiffer.
Silvia is the CEO and Co-Founder of CSIRO spin-out and a successful ON alumni Coviu.
Coviu's mission is to be a catalyst for life-changing online care anywhere. The platform allows both patients and providers to discover the benefits of video consultations such as cost and time savings, reduced no-shows, improved patient satisfaction and greater flexibility.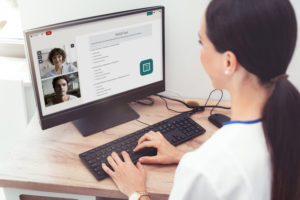 With lockdowns and social distancing accelerating global adoption of telehealth, Coviu has seen accelerated growth. The company scaled from doing 400 consultations a day pre-COVID to 25,000 a day and grew the business to 42 staff. In 2020, Coviu ranked second on Deloitte's list of fastest growing companies with 11,553 percent growth.
Silvia recently spoke to us about her time at CSIRO and how it led to her current role leading one of Australia's leading telehealth providers.
Silvia first joined CSIRO's Data61 in 2012 as a software engineer before becoming a team lead. Silvia proudly remembers implementing the technology that later morphed into Coviu.
"We worked with the Royal Far West School on a really impactful project called SWAY – Sounds Words Aboriginal Language and Yarning," Silvia said.
"The project helped with oral language and literacy in rural and remote schools by including Aboriginal knowledge, culture and stories into education as well as speech therapy. That project helped many children who are probably by now all grown up.
"This software was used for several years and was the inspiration for Coviu.
"Working closely with clinicians, I found that existing consumer and corporate video calling software wasn't meeting the needs of healthcare professionals. The software didn't meet the strict security and privacy requirements, there was no way to integrate the many tools and functions used on a regular basis: collecting payments, making appointments, gathering patient consent, and more.
"We spent the next six years building a tool that met their needs.
"The research work undertaken at CSIRO included the ideas and knowledge of many amazing people.
"I attended ON Accelerate and thought it was an excellent avenue to help commercialise research projects," Silvia said.
The team was also supported through the Innovation Acceleration Fund to develop the commercialisation pathway, and secured investment from Main Sequence.
In May 2018, the company was spun out of CSIRO and started operating independently.
"Coviu is a product-led business continuously innovating. We have a Marketplace through which we enable other companies and research institutes to publish their digital clinical tools that might help a clinician deliver better healthcare online."
Silvia and Coviu continue to have shared research projects with CSIRO and are currently involved the image analysis group in Data61.
"One of our goals at Coviu is to help with commercialisation of research outcomes and this is part of my way of making that happen."
For someone who says she felt she wasn't ready to run a business independently when Coviu first spun out, Silvia is certainly making a significant impact to the way people access quality healthcare.
Making the jump
Silvia offers five tips for anyone thinking of making the move from researcher to CEO:
Have a great story to tell – it will attract staff, investors, customers.
Understand that the business model is everything – your technology is only as valuable as a customer is willing to pay.
If you just want to do technology and innovation, make sure to find a great founding partner with business acumen.
You will need 10 times the money that you think you'll need – find a good, supportive investor.
Make sure IP ownership is clean – you don't want to have to get licenses from all your project partners.