Herding Cats Revisited: Being more advice to aspiring academic and research leaders by Geoff Garrett and Graeme Davies
One of our well-known alumni members, Geoff Garrett is keen to share the updated version of his book, "Herding Cats Revisited: Being more advice to aspiring academic and research leaders"
Knowing full well that academics and researchers usually hate 'management texts', their small book, hot off the press, bucks this trend. Written with Graeme Davies, formerly Vice-Chancellor of the Universities of Liverpool, Glasgow and London, Geoff explains that they had input from a number of former CSIRO colleagues – and accomplished 'cat herders'! -now alumni, plus a current senior staffer helping them as their distinguished and highly value adding 'consultees'.
Read the reviews and order your copy here: www.triarchypress.net/cats
Special offer for alumni members: Get a third off the advertised price when you use the promotion code catflap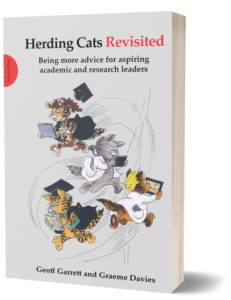 It is well known that, in their professional lives, most academics and researchers will – like cats – seek to exercise as much independence as possible and may display resistance to anything resembling authority. Nevertheless, leaders of academic/research institutions must still lead and, by common agreement, need all the help and advice they can get!
In the ten years since they wrote their hugely popular – locally and internationally – first book on the subject, the world has changed almost beyond recognition. Geoff Garrett and Graeme Davies have gained more insights around leading international academic/research institutions, and have talked to even more colleagues around the world. In Herding Cats Revisited they have extended, rewritten and updated their advice to reflect the technology, equality and financial realities of the 2020s.
Once again, the authors address common leadership and management themes, like making tough strategic choices, leading change effectively, crisis management, dealing with bureaucracy, managing social media, allocating resources, managing budgets and ensuring effective implementation.
Herding Cats Revisited guides academic/research leaders and aspiring leaders through the process of learning to accept and embrace the qualities of their 'cats' so they can tempt them into successfully achieving exciting and demanding goals with agility.
Here are some reactions to the new Herding Cats Revisited and to the original book (many more can be found here):
"Reading this new edition was a most enjoyable task. The additional material is very fresh and relevant and I chuckled frequently at the many incisive observations.…"
Prof. Ian Steadman, formerly Dean of Arts, Univ. of the Witwatersrand, RSA; and Director of Development at the Open University and at Oxford Brookes University, UK
"This updated version is full of even more insight and wisdom … a lovely book"
Mark Dodgson, Emeritus Professor, University of Queensland Australia and Visiting Professor, Imperial College London
"There is no cookbook for leadership, only the experience and learnings of others and that is what makes this such a distinctive offering"
Dr Michael Battaglia, Research Director, CSIRO Australia
"In an era of hype and inflated claims about the secrets of successful leadership, Herding Cats Revisited bucks the trend by delivering the distilled, hard-earned experience of individuals who have led with high impact in the unbridled world of research and academia. The genius is that it actually provides a much broader roadmap for leading in 'today's' crazy world of work. A must read, reflect and apply."
Ian Dean, International leadership coach, Stellenbosch, RSA
"Usually, I am not drawn to books about work ethics or strategy, perhaps because I am instinctively inclined to learning from the school of hard knocks. But in this case, I … found an easy how-to guide that covers absolutely every aspect of an effective career in academic teaching, research and leadership. It's a lifetime of learnings laid out, coming one after another like tasty morsels in a degustation menu. It's a way to graduate from the school of hard knocks without suffering the pain."
Alan Finkel, formerly Chief Scientist, Government of Australia and Chancellor, Monash University, Australia
"This 10-year anniversary edition is a great read and even more relevant in these challenging times: as we emerge into a post-Covid world, we need more leadership not less, particularly in our university sector … all of my new senior leaders will be receiving a copy of Herding Cats Revisited when they join our university!"
Prof Alex Zelinsky, Vice-Chancellor, Univ. of Newcastle, Australia